Building chains and epidemic-free zones: Conditions for integration
In animal husbandry, the construction of a disease-free zone is of great significance, not only to control the disease but also to create safe products for consumers. Accordingly, animal products in disease-free zones when exported for sale are given priority in the selection and supply of breeds, animals and animal products. Besides, it is allowed to transport animals and animal products out of epidemic areas. This is a great advantage when the current evolution of animal diseases is complicated.
In addition, they will also be considered for a certificate of compliance with the Vietnam Good Animal Husbandry Practices (VietGAHP), given priority to participate in trade promotion and product promotion programs. In addition, the construction of disease-free areas and facilities also reduces the risk of infection, improves and improves the efficiency of farm management; provide safe food for the market, especially for chains linked from livestock, slaughter to processing and consumption of products.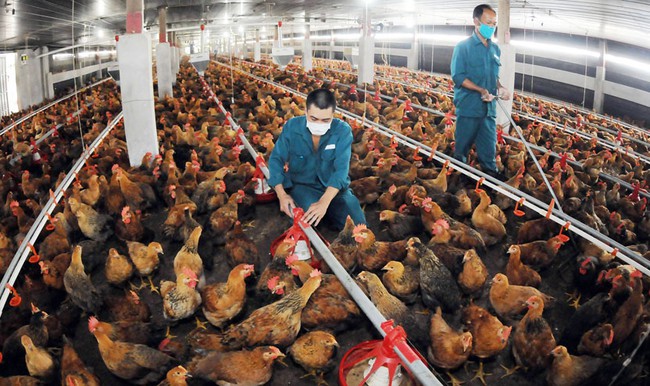 Recently, the Ministry of Agriculture and Rural Development has developed and submitted to the Prime Minister for approval a priority project on disease-free areas for the period 2022 - 2030. In which, focusing on successfully building epidemic-free livestock production chains and areas. diseases according to Vietnamese regulations and OIE standards in the Southeast region. Since then, the model has been replicated and applied to build epidemic-free zones in other localities across the country.
In the period of 2021 - 2025, the livestock industry will give priority to the development of industrial, centralized and biosafety livestock projects to meet the increasing demands of the domestic market and for export. However, in order to participate well in the export market, the livestock industry must solve the disease problem, build big brands with a full chain of links from breeding, breeding, ...
According to the requirements of the World Organization for Animal Health (OIE), one of the prerequisites for exporting meat to markets is to build a disease-free breeding area. Meanwhile, the deployment of disease-free zones in our country is still quite modest. From 2016 to now, in the whole country, only 3,705 times of livestock production facilities and areas in 52 provinces and cities have been certified as disease-free, including 1,462 poultry-raising establishments and areas; 2,039 establishments, pig-raising areas and 204 other livestock-raising establishments and areas.
As for Hanoi, although it is at the top of the country in livestock production, there are only 4 areas free of rabies disease, maintaining 38 facilities that are safe for terrestrial animal diseases. Therefore, at present, the export of livestock products of Vietnam is quite limited.
Building chains and epidemic-free zones: Many barriers need to be removed
The construction of a disease-free area is very necessary, not only in the context that the disease in livestock continues to have complicated developments, but also to move towards a sustainable livestock production. However, there are still many problems with its implementation. Because livestock production in our country is mainly small, intertwined with concentrated breeding establishments. Therefore, monitoring the circulation of bacteria and viruses is difficult and difficult to control. Vaccination for livestock and poultry in farming households faces many difficulties.
Meanwhile, the grassroots veterinary force is thin, the awareness of some breeders is still limited, they have a subjective mindset and rely on the support of the State. The infrastructure in the areas where concentrated husbandry and slaughter is planned is still lacking and inconsistent, so the implementation of the livestock and slaughter planning is still facing many difficulties.
Another significant barrier comes from the implementation budget. Due to the need to arrange funds for sampling and testing for diseases when building disease-free areas and facilities, provinces and cities do not have specific policies to support livestock farmers. On the other hand, the construction of disease-free facilities is not a mandatory criterion for establishments, so it is not encouraged to be implemented by organizations and individuals.
Along with that, the annual cost of testing for disease-free facilities (especially large farms) is still high, so many facilities have not maintained without the support policy of the State. Currently, establishments still have to comply with regulations to be granted a certificate of livestock conditions, which means implementing both types of administrative procedures on livestock conditions and disease safety.
Accordingly, in order to replicate the disease safety model, localities need to stipulate areas and facilities that are safe from animal diseases, integrate them into provincial planning, and organize implementation according to the provisions of the Law on Veterinary Medicine. The Law on Planning clearly defines the areas that need to be built to achieve disease safety according to the regulations of Vietnam and the OIE.
At the same time, it is necessary to strengthen livestock management in disease-free areas and proactively prevent diseases with vaccines in the first stage. Actively monitor and demonstrate food safety assurance in disease-free areas; control the movement of animals and animal products in and out of disease-free zones. In addition, maintain the organizational system and strengthen the veterinary capacity at all levels to ensure that the organization successfully builds, manages and effectively maintains the disease-free zone.
Source: Nguyen Ngoc Son - danviet.vn