Isuzu Vietnam - a famed Japanese brand of commercial vehicles for more than 100 years - has joined hands with Quyền Auto - a producer of chilltruck ermal box for domestic and foreign customers - to participate in the Việt Nam Fisheries International Exhibition (Vietfish) 2018 in HCM City.
Vietfish 2018, the largest since the event was launched 20 years ago, took place at the Sài Gòn Exhibition and Convention Centre from August 22 to August 24.
During this year's show, Isuzu Vietnam and Quyền Auto conducted a series of activities to introduce visitors to professional chill & thermal box for trucks, including showcasing the FVM high-grade heavy duty truck and QKR light truck and product consultations offered by professional staff.
Via their booth at the event, the two companies also offered visitors opportunities to enjoy Sashimi dishes made by a Japanese chef, experience ice coffee stored in a freezer with temperatures as low as minus eighteen degrees for the first time at Vietfish, while offering many other attractive gifts.
Isuzu Vietnam and Quyền Auto co-ordinated to join Vietfish for the second year. This participation has demonstrated the strategic relationship between the two leading manufacturers in Việt Nam. That resulted in the combination of the Isuzu 2018 platform - the new Blue Power Euro 4 truck with solid chassis, outstanding durability, fuel economy, and environmentally friendly technology with Quyền Auto's truck bodies, equipped by superior refrigeration systems, imported barrel material and new components suitable for frozen transport.
Notably, customers who visited the two companies' booth at Vietfish 2018 had a chance to enjoy a 5 per cent reduction in rear body value and 5 per cent reduction in air conditioner value when installing chill & thermal truck bodies and insulated trade bodies for all Isuzu cars at Quyền Auto dealers. At the same time, special promotions for seven lucky customers are also available when they signed contracts to purchase the ISUZU F Series now until September 30.
For more information, visit https://isuzu-vietnam.com/sukien/#!/dangky
Contact the nearest dealer for advice: http://bit.ly/Isuzu_Dai-ly
A booth by Isuzu Vietnam and Quyền Auto at Vietfish 2018 lured the attention of many visitors.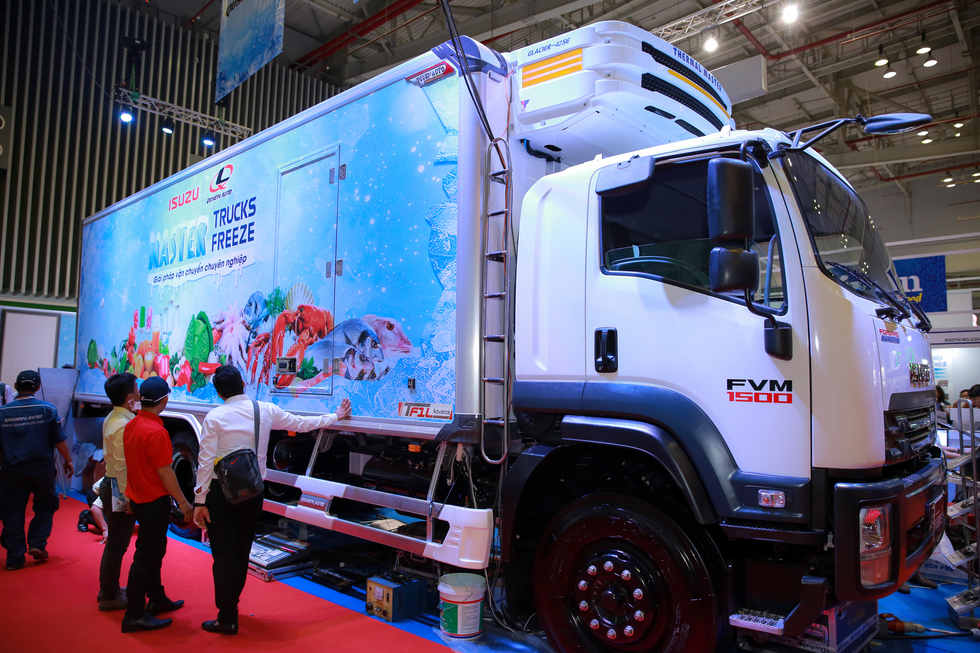 A light chill & thermal truck mounted on the ISUZU-QKR77H Euro 4 has a weight from 4.95 to 5.5 tonnes suitable for transportation in the inner city. It is capable for loads up to 2.49 tonnes.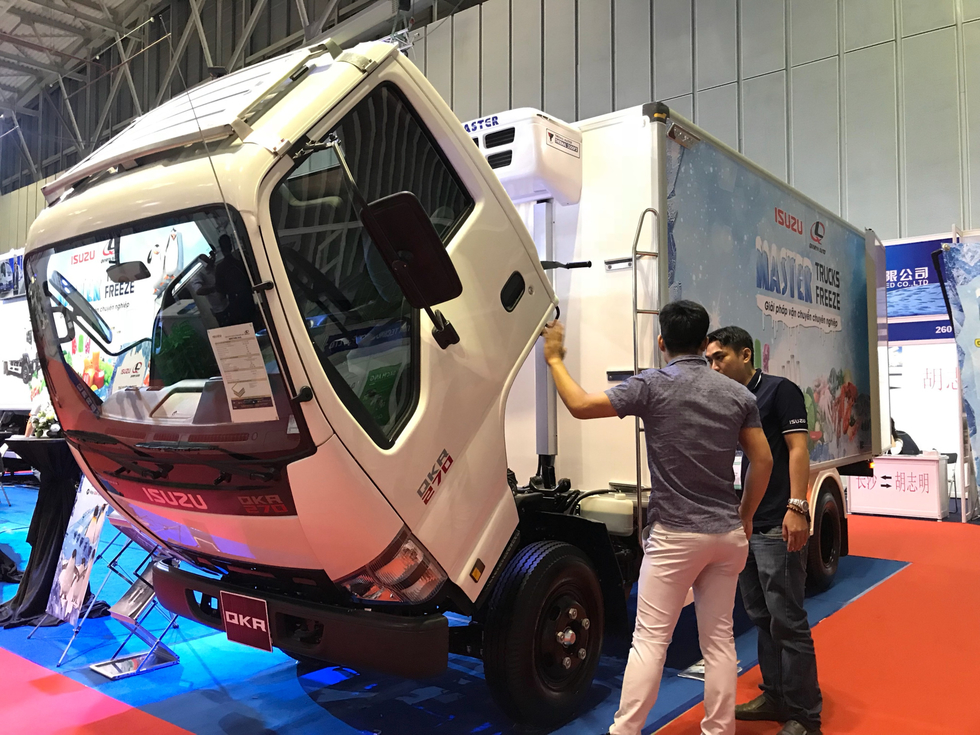 A heavy-duty chill & thermal truck - a combination of ISUZU-FVM34T Euro 4 and Quyền Auto's chill & thermalbody - has a weight of 24 tonnes and a length of up to 7.45 metres. It is eligible to carry up to 14.15 tonnes and suitable for long-distance transportation.