Tuyen Quang In this year's orange crop, organic orange growers in Ham Yen district (Tuyen Quang) earned hundreds of millions of dong in profit because oranges were well priced and accepted by the demanding market.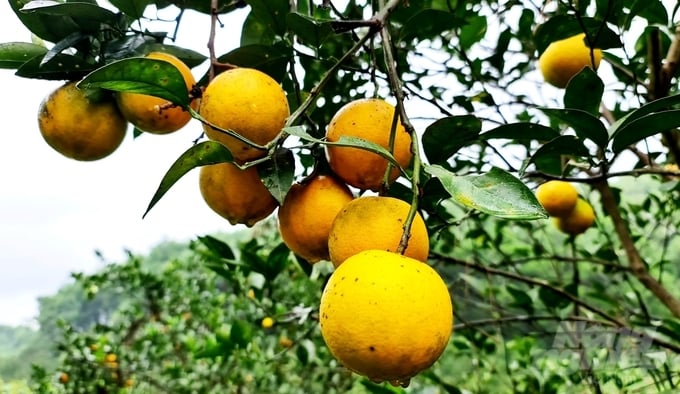 Currently, in the whole Ham Yen district, there are 4 groups of households producing organic oranges, with the area of oranges converted to organic production according to Vietnam's PGS organic standards of 22.6ha/15 participating households in Bang Coc communes. , Tan Thanh, Nhan Muc and Ham Yen town. Ham Yen oranges produced organically are mainly BH32 and BH32 varieties. 100% organic orange products all have traceability stamps and are connected to consumption with businesses and traders at the price of 25,000/kg, double the price of conventionally grown oranges.
Dang Van Thanh's family in hamlet 2, Tan Thanh commune, Ham Yen district has grown 3ha of oranges, of which 1.5ha has been organically grown for 5 years. This year, right at the beginning of the crop when oranges began to be harvested, many key traders at big supermarkets came to order and buy.
With 1.5ha of oranges grown in the usual way, Mr. Thanh's family earned about 30 tons. Meanwhile, growing according to the organic model, an area of 1.5ha yields about 15 tons. However, organic oranges are purchased at the price of 25,000 VND/kg, minus expenses. Mr. Thanh makes a profit of 5,000 to 7,000 VND/kg (compared to conventionally grown oranges, the profit is only from 1,000 to 2,000 VND/kg). .
Mr. Dang Van Thanh said that his family has been making organic oranges for 5 years now, in 2020, an area of 1.5ha of his family's oranges will be recognized as organic. On average, each year, his organic orange garden earns about 130 million VND/year, while the normal orange plantation area earns only about 100 million VND/year.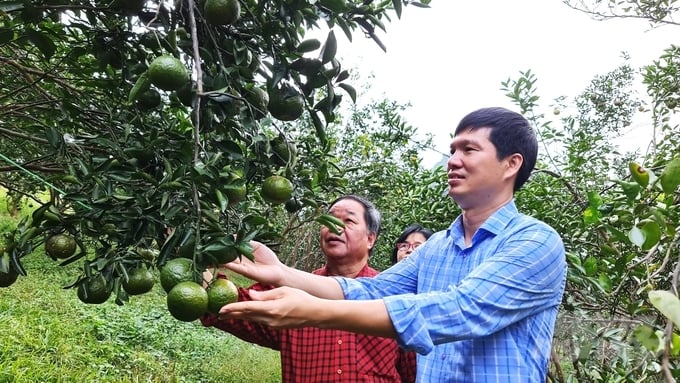 Although the price of organic oranges is high, this year, orange growers in Ham Yen also face difficulties such as high fertilizer prices. In addition, the cost of hiring workers to care for and harvest high has also increased. If last year only rented 200,000 VND/person/day, this year it will increase to 300,000 VND/person/day.
Mr. Hoang Bien's family in Tan Yen residential group, Tan Yen town (Ham Yen district) has 2.4 hectares of organically grown oranges. Mr. Bien said, this year oranges are quite expensive, the yield is also stable. However, the big difficulty of organic farming is that currently there are no agents selling fertilizers and organic products, while the process of making processed products as fertilizers and pesticides. Disease is very laborious and time consuming.
Another difficulty for orange growers like him is that the root rot disease and Greening disease are spreading and causing thousands of hectares of oranges to die. With the area of oranges grown in the organic direction and the gardeners who have enough conditions to fertilize the trees, the mortality rate is low, and most orange tree households die simultaneously.
In fact, Tuyen Quang province has many favorable conditions for effective organic orange development. Because there is a large "clean land" fund here, some areas use less chemical fertilizers and pesticides, so the cost of investing in land improvement is not high.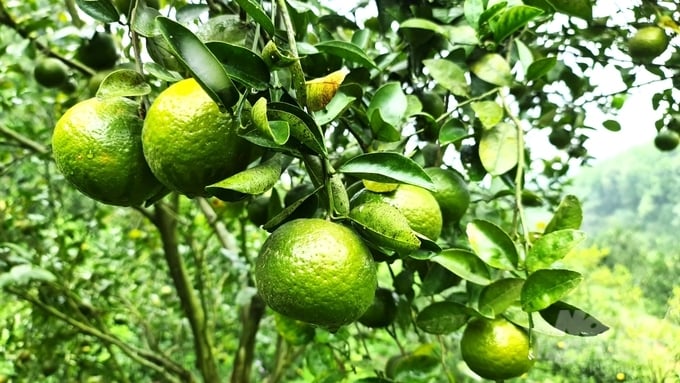 However, the difficulty of developing organic agriculture in Tuyen Quang is that the land fund in the area is still small, fragmented, not large enough for commodity production. Local orange varieties also need agencies and units to provide good, disease-free varieties, because if farmers take care of the seed stage themselves, they will not be able to control the quality, leading to risks and unsustainability.
Mr. Ha Phuc Mich, Chairman of the Vietnam Organic Agriculture Association, said that after more than 4 years of implementing organic agriculture, the orange orchards of Ham Yen district have been increasingly expanded. Along with that, when oranges are recognized as organic, the market is ready to accept them. The job of the authorities, the local PGS is to help farmers promote trade, connect consumption, ensure stable output for farmers, ensure profits so that farmers can rest assured. make organic oranges.
According to Mr. Mich, the big barrier for organic crop producers in Tuyen Quang in particular and the whole country in general is that there is no professional service provider of agricultural materials for units and farmers. organic agricultural production.
Source: Dao Thanh - Toan Nguyen/nongnghiep/.