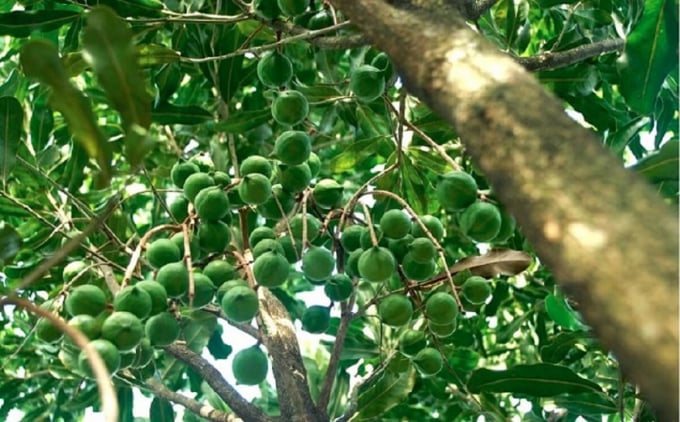 A little about the macadamia tree
It is not possible to rely solely on the properties and values of the macadamia tree theoretically in books, in the mass media, and from the results of other provinces to see it as a great opportunity for many regions. Western Nghe An strongly developed macadamia trees. The development of macadamia trees in Nghe An needs to have enough scientific basis before making a policy to expand the area on a large scale of thousands of hectares.
In terms of science, in agricultural production, before putting a crop into production, it is necessary to go through the steps from trial research to trial production on a narrow scale to monitor and evaluate the criteria for crop production. growth and development over time in each season, on different types of soil, as well as assessment of the influence of climate and weather on growth, yield, product quality, ability pest resistance, and ultimately economic efficiency...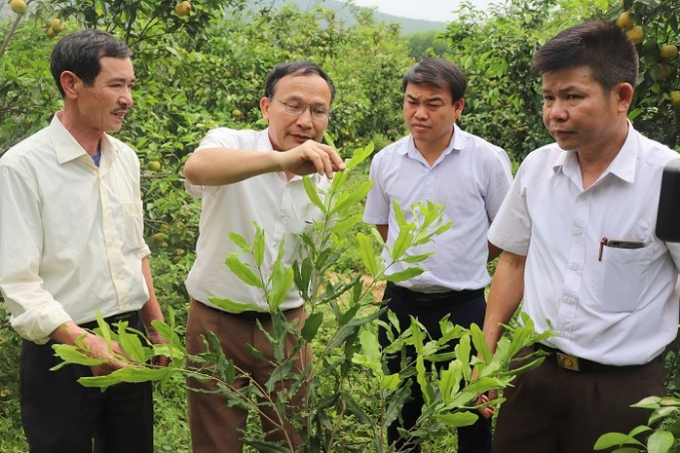 If the trial production gives good results, we will continue to gradually expand the planting area in the form of demonstration models to organize visits and seminars to introduce new plants before introducing the policy of expanding the scale and planting on each specific location.
Macadamia is a new plant that not many people know about. It is a large tree, native to Oceania (Australia), scientific name Macadamia, belonging to the family Proteaceae. The tree has a wide canopy, shallow roots, and white flowers or pink flowers. Flowers bloom mainly from February to March, depending on the temperature of each different sub-climate, they can bloom earlier or later.
Macadamia is a typical birch tree, leaves grow round, there are also cases where 2 leaves grow symmetrically or 4 leaves grow in a ring. Flowers hermaphroditic, without petals (bare flowers). The fruit is dry, and cylindrical in shape. In the pods containing the seeds, the seeds contain commercial oil similar to that of a kite seed. Macadamia trees can be grown pure or intercropped on porous soil, with the deeper the arable soil layer as possible, and is a tree with a life cycle of 90-100 years. Macadamia varieties are grown today mainly by the method of grafting, so only after 3-4 years of planting have flowers and results.
What is the result of the macadamia tree planted in Nghe An?
In 2003, the late Deputy Prime Minister Nguyen Cong Tan personally went to Nghe An to direct the trial of macadamia trees at Song Hieu Forestry Company Limited and Con Cuong Forestry One Member Limited Company.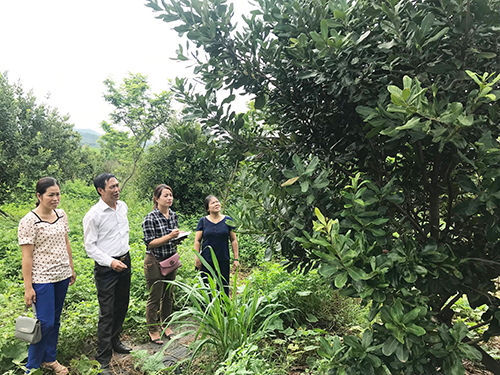 Mr. Ho Dinh The, former Director of Song Hieu Forestry One Member Limited Liability Company said: In 2003, the company planted about 500 trees scattered along both sides of National Highway 48 from Nghia Dan to Quy Chau, Que Phong and at the site. Company office staff 20 trees.
After 3 years of planting, every tree grows well, flowers a lot, and every year, too, every February - March is flowering. But, unfortunately, every tree flowers a lot, but the fruit is very few, even some trees have no fruit or have negligible fruit.
According to the explanation of Mr. Ho Dinh The, the reason why macadamia trees flower a lot, but the fruit set rate is very low is because the structure of macadamia flowers is bare flowers and the flowering period in February and March in Nghe An in general. In particular, the western region of Nghe An in particular is the time when it rains a lot, accompanied by a prolonged northeast monsoon, the time of rain and humidity both wash away and stick to pollen, so the fruit-setting rate is very high. Since then, according to Mr. Ho Dinh The, macadamia trees should only be planted as protective forest trees, because the trees are green all year round. Planting for fruit as in the Central Highlands provinces and some provinces in the Northwest of Nghe An is not effective.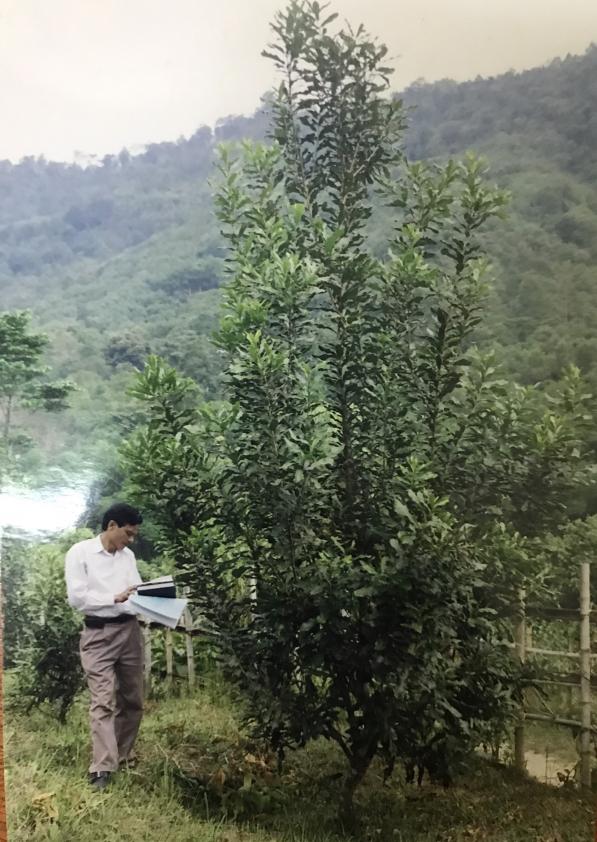 At Con Cuong Forestry One Member Limited Company, Mr. Nguyen Ngoc Lam - Director of the Company said: On October 7, 2003, Nghe An Department of Agriculture and Rural Development issued Official Letter No. 2221/CV-NN assigning tasks to the Company. The company grows macadamia nuts in the Con Cuong district, including: Planting on the company's land 4,057 trees and planting 8,000 trees in 6 communes (Mon Son commune 2,000 trees, Luc Da commune 1,200 trees, Yen Khe commune 2,000 trees, Bong Khe commune). 1,000 trees, Mau Duc commune 1,000 trees). The total number of trees planted is 12,057 trees, equivalent to an area of 20 – 21ha. Most of the macadamia trees after being planted for 3 years have a lot of flowers, but the results are very few and even some trees have almost no fruit.
As explained by Mr. Ho Dinh, Mr. Nguyen Ngoc Lam said that the reason why macadamia trees grow here flowers a lot, but bears little fruit is that the flowering season of macadamia trees is mainly from February to March. Every year and later, the weather in Nghe An is usually drizzled and the northeast monsoon lasts, the air humidity is high, and there is even frost.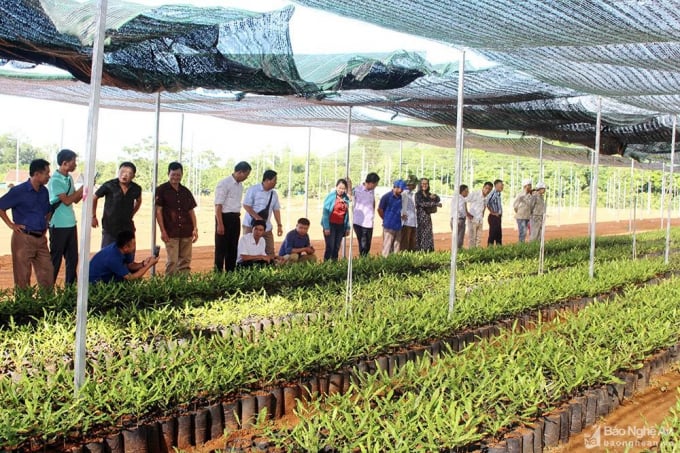 Meanwhile, the structure of macadamia flowers is bare flowers, without petals (like mango flowers). Therefore, when there is prolonged rain and high air humidity, the male pollen will rot and the fruit will have little or no fruit. In recent years, the average harvest of each tree is only 5-6 kg of fruit, in more favorable weather, the tree that gives the most fruit is only 15-20 kg. Therefore, some areas of macadamia trees have been cut down to grow other trees more effectively.
As a basis for whether to expand the macadamia acreage in Nghe An, on April 1, 2019, Con Cuong Forestry One Member Co., Ltd. had a report assessing the status of macadamia trees planted in a survey. experimental and mass planting in 6 communes in Con Cuong district.

The conclusion of that report showed that: Macadamia trees grow well in Nghe An, but the flowering period and results are not suitable with the specific weather and climate in Nghe An . Therefore, the economic efficiency is very low and that is the reason why many areas of macadamia trees have been cut down to replant other trees with more efficiency.

According to Mr. Nguyen Van Lap, former Deputy Director of the Department of Agriculture and Rural Development, the monitoring of macadamia trees brought into trial planting in Nghe An shows that it is not effective and should not have a policy to expand the area planted for this type of tree. in Nghe An.
Should the macadamia plantation area be expanded in Nghe An?
Macadamia is a plant native to the state of Queensland (Australia), in the temperate climate zone. Macadamia nut is not an easy plant to grow like rubber, coffee… Prof. Dr. Le Dinh Kha has been attached to the macadamia tree since the early days of joining Vietnam and has done much research on it. This tree advises: In recent times, there has been an exaggeration of the value of the macadamia tree, which is an easy-to-grow and high-income tree.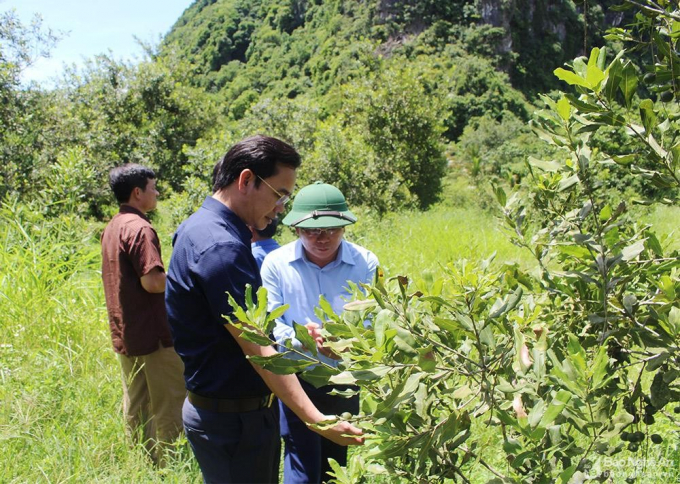 In fact, in many cases, they praised the expansion of the macadamia plantation area to sell seeds. Macadamia is a very fastidious crop, not everywhere can be grown, big investment, and a lot of risks. Therefore, do not be subjective, do not grow macadamia according to the movement. Therefore, the only way to avoid the risk is before deciding to expand the planting area, it is mandatory to plant a pilot trial, and only when there are satisfactory results, then expand the area.
Prof. Dr. Hoang Hoe, former director of the Forest Investigation and Planning Institute, said that through many research results, in Vietnam, macadamia trees can grow well in two regions, the Central Highlands and the Northwest. In the rest of the regions, when the macadamia tree blooms with drizzle, the tree will have very little fruit, very low yield, or even no harvest.
Ms. Vo Thi Nhung, Deputy Director of Nghe An Department of Agriculture and Rural Development, said that macadamia trees have been planted in Nghe An for several years now with an area of about 200 hectares, but the results are not clear, where is it, where? lost, gained year, lost year, fruit trees, fruitless trees. In general, the average productivity is still very low and unstable. The reason, according to Ms. Nhung, is that the weather at the time of flowering is not favorable and the intensive investment and care regime is not satisfactory.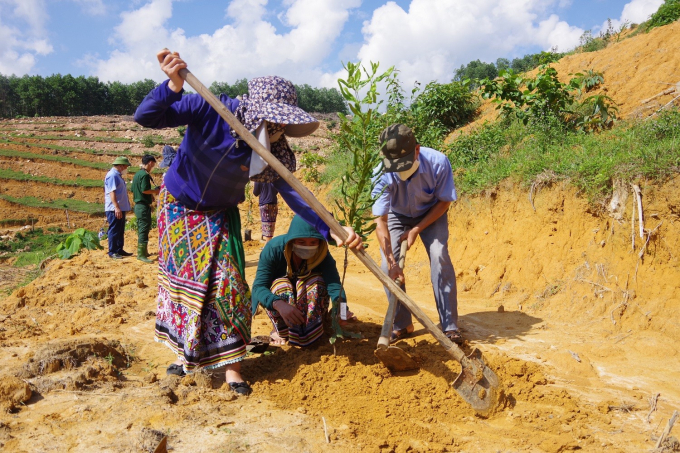 Therefore, in the near future, in order to have a scientific basis for the expansion of the macadamia tree planting area in Nghe An, the Department of Agriculture and Rural Development will assign the Nghe An Center for Agriculture and Fisheries Extension to experiment with macadamia trees. both pure planting and intercropping on tea trees to combine and serve as shade trees for tea). If successful, there will be a plan to gradually expand the planting area in accordance with the soil conditions, climate, and investment ability in Nghe An.
From the actual results of trial planting of macadamia in Con Cuong district and some localities in Phu Quy area and the opinions of scientists, managers, and the author of this article himself, there is not enough opportunity. scientific and practical basis to bring macadamia trees into cultivation in Nghe An on a large scale of hundreds and thousands of hectares.

Lessons and costs due to maintaining the will, hastily expanding the planting area of some trees when there is not enough scientific basis has caused damage to both the state and the producers. Typically, the expansion of the area planted with grass and rubber trees to low hills and semi-mountainous areas in the past years.
Source: Doan Tri Tue - nongnghiep.vn