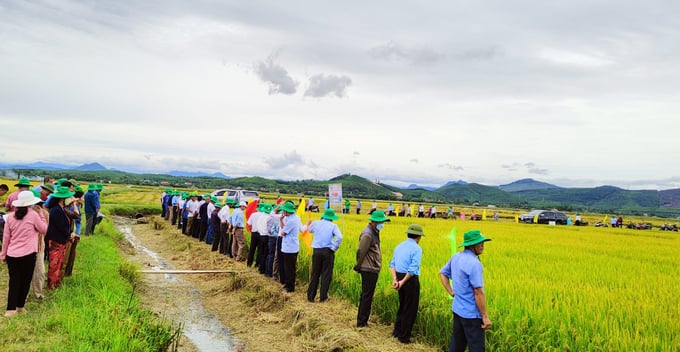 Hana No. 7 is a high-quality pure rice variety that has been deployed as a trial linkage model in Ba Don Town and Le Thuy district (Quang Binh) in the winter-spring crop 2021 - 2022 with a total area of nearly 50 hectares. In the models, rice yield is high and is purchased by Song Gianh Corporation for farmers.
In this year's summer-autumn crop, Song Gianh Corporation cooperates with ADI Company to implement the chain of production of Hana rice variety No. 7 at Thong Nhat Cooperative, An Ninh and Duy Ninh communes (Quang Ninh district) with regulations over 15 hectares.
According to Mr. Hoang Hai Dan, Director of Thong Nhat Cooperative, Hana No. 7 rice variety has many advantages such as high germination rate, healthy and uniform growth; high tree trunk, good fall resistance, and no major pests and diseases have been observed. When making the poles grow healthy, bloom concentrated, less pests ...
The Hana variety 7 has a growing period of the winter-spring crop from 110 to 115 days and the summer-autumn crop of 90 to 95 days, which is suitable for the local seasonal structure.
"The actual yield of Hana No. 7 rice is estimated at 65 quintals/ha, which is very good for the summer-autumn crop. This rice seed is clear, the husk is thin, the milling rate is about 70%, so it is very beneficial for rice," Dan added.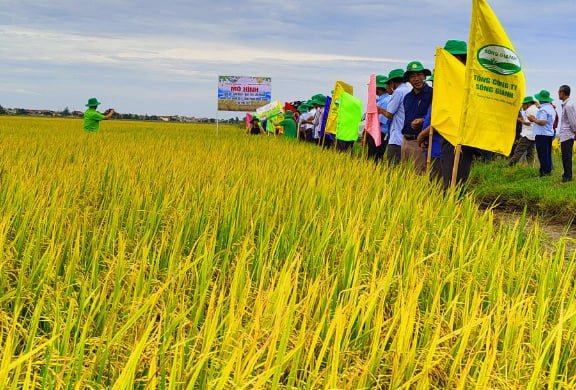 After visiting the actual production area of Hana No. 7 rice variety at Thong Nhat Cooperative, Mr. Le Xuan Tu, Director of the Quang Binh Plantation and Plant Protection Sub-Department, said that through monitoring the rice varieties in the area We found that the pure rice variety Hana No. 7 is a promising variety that can be put into production in the province, suitable for both winter-spring and summer-autumn crops.
According to Mr. Cao Ngoc Anh, Deputy General Director of Song Gianh Corporation, the company will ensure the supply of seeds and organic fertilizers to farmers, and support the production process for farmers. The model of organic rice production has also been participated by hundreds of households and is highly effective.
"Currently, we buy in the field for farmers at a price higher than the market price. As a result, the efficiency of the association model increases from 25 to 30% compared to the previous production method of the people. On the basis that the delegates all agreed that this is a promising rice variety that can be put into production in the next local crops, we are committed to expanding the model of cooperation with farmers in the coming seasons. ", said Mr. Cao Ngoc Anh.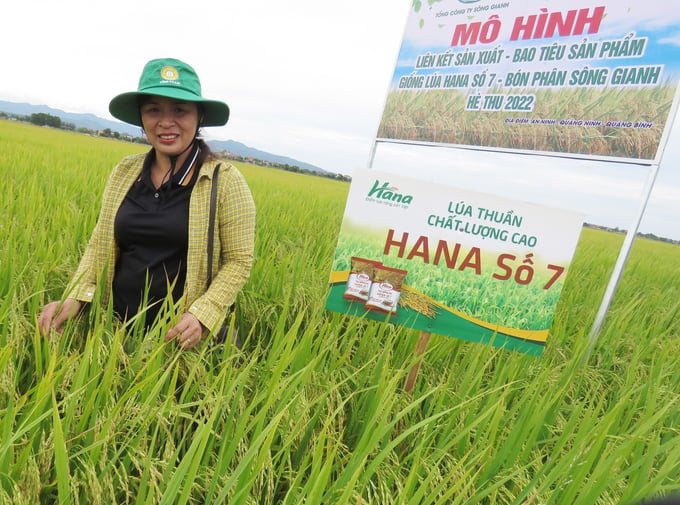 In this year's summer-autumn crop, the price of agricultural materials increased, especially the price of fertilizer nearly doubled, the price of soil preparation and harvesting services also increased with the price of gasoline, so farmers faced many difficulties.
Mr. Vo Doan Tam, a farmer in An Ninh commune, said that if calculated per pole (500m2), fertilizers, pesticides, tillage services, harvesting, and transportation ... increase by about 1 million VND. "Thus, each hectare of farmers costs about 20 million VND more. Without the support of businesses in the linkage chain, farmers only have to make a loss when they grow rice, "said Mr. Tam.
Visiting the actual model, many local officials highly appreciated the Hana variety No. 7 and the program of cooperation in right-wing production and product consumption. Ms. Tran Thi Lan, Chairwoman of the Farmers' Association of Hung Trach Commune (Bo Trach District) suggested businesses continue to support seeds, fertilizers and technical processes to link production with farmers.