Dak Lak Provincial People's Committee held a conference on October 26 to manage, monitor and develop the codes for planting areas and export packaging facilities in the area.
The total area is increasing consistently
According to a report made by Dak Lak Department of Agriculture and Rural Development, durian is a potential key crop in the province with the total area estimated at 15,250 hectares in 2022, accounting for 35.20% of the fruit tree area, an increase of 13,000 hectares compared to 2015. The output is estimated at 156,392 tons, an increase of 126,000 tons compared to 2015 and the output is estimated to reach roughly 300,000 tons by 2025.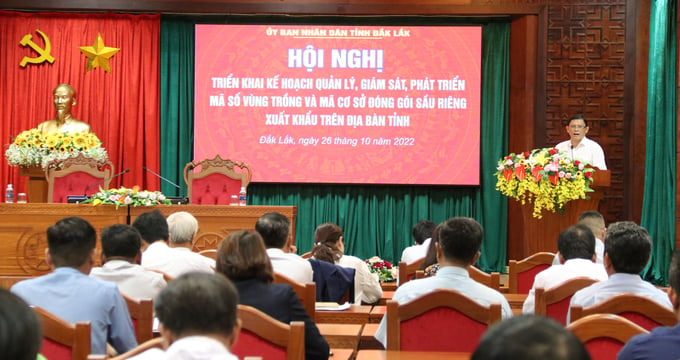 Several notable districts have large durian growing areas include: 3,600 hectares in Krong Pac, 4,200 hectares in Krong Nang, 1,700 hectares in Ea Hleo, 1,200 hectares in Buon Ho Town.
Durian currently has a much higher economic value compared to other crops, bringing a good source of income for farmers. As a result, the area and output are increasing. In addition to pure cultivation, the farmers also intercrop durrians in coffee farms and established a number of large scale production areas large scale to serve export needs. So far, the General Administration of Customs of China has granted Dak Lak 23 planting area codes by for an area of 1447.9 hectares. The province has also established 50 planting area codes for an area of 2,000 hectares. The total area of planting area that has been granted a code, planting area that has been established and planting area that has applied in Dak Lak is 3,528 hectares. Regarding packaging facilities, Dak Lak was granted 4 codes and is currently continuing to apply for 4 more facilities.
According to Dak Lak Department of Agriculture and Rural Development, the official export of durian to the Chinese market is a great success for the durian industry in Vietnam and more importantly, for Dak Lak province. According to statistics as of October 24, the total export volume in Dak Lak province is estimated at 5,000 tons; this figure is expected to rise to at least 6,000 tons by the end of the export season.
The official export is both an opportunity and a challenge for industries, businesses and farmers because in order to export durians, the preparation steps must be completed thoroughly, from the linkage building, setting up growing areas, setting up packaging facilities to the production process, product packaging, and pest control.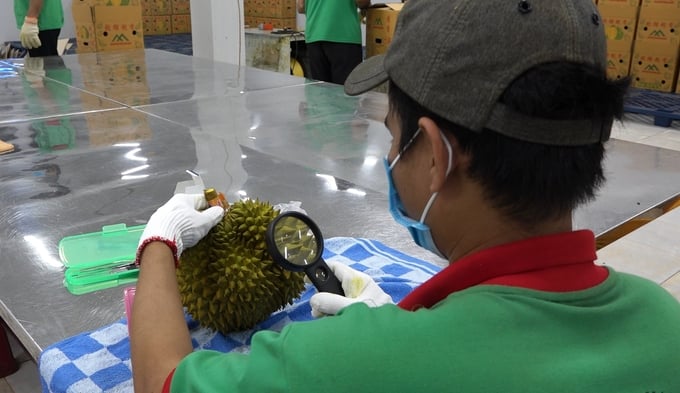 Dak Lak Department of Agriculture and Rural Development will continue to develop and complete the process according to the value chain for official exports to China: From seed selection, care process, area code planting among other stages, to make product information transparent to domestic and foreign consumers.
The Department has also completed a plan to implement the establishment, management and supervision of planting area codes and packaging facility codes for export in order to promote the sustainable development of durian industry with regards to the production scale that meet the requirements of the importing country.
Linking stakeholders for sustainability
Ms. Ha Thi Ha Huyen, Raw Material Area Manager for Van Hoa Holding Group Joint Stock Company said that the company is among the 25 packageing facilities that have been granted a code by the General Administration of Customs of China.
According to Ms. Huyen, Van Hoa Group plans to build a material area of 10,000 hectares for the immediate future; which corresponds to an output of 200,000 tons, spanning from the West to the Southeast and ending at the Central Highlands.
"In order to meet the standards set by the importing country, building a production value chain is of special importance and necessity at the moment. Therefore, in order to form a value chain to promote sustainable development, we need to these six different stakeholders: "farmers, government, scientists, entrepreneurs, banks and journalists", Ms. Huyen said.
According to Ms. Huyen, farmers are mainly small-scale production uits, they are slow to access market information, and some still have limited awareness of responsibility for complying with regulations, so it is easy to violate contracts in the process of creating a value chain of production and consumption. Therefore, collective economic organizations such as cooperatives and cooperative groups play a significant role in contributing to the organization and management of production. It is necessary to promote propaganda and mobilization of people to join collective economic organizations.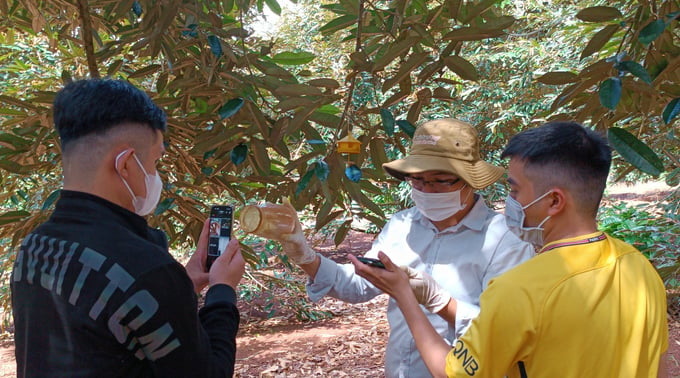 The press plays an equally important role in promoting the development and spreading of valuable production models with high efficiency, harmonious association. Accordingly, stakeholders can clearly understand the importance of participating in the durian product production chain in order to improve the efficiency and competitiveness of the product in the international market, especially against competitors such as Thailand and Malaysia.
Businesses are also indispensable to the linking of the remaining 5 stakeholders to form production material areas. They support input and product consumption for farmers; gradually propagate towards building a durian product brand for Vietnam as well as Dak Lak.
"With the specific goal of reaching 3000 hectares of area in Dak Lak and as an engine for the formation of the value chain, businesses are ready to invest with the corresponding budget of 150 billion VND directly for producers through banks so that production can export standards to the Chinese market. Businesses also establish policies of offering bonuses for collective economic organizations and the farmers; support and coordinate in the implementation of planting area codes, provide training to record farming, production process diary, cooperate in organizing technical training to improve product quality" Ms. Huyen explained.
Mr. Vo Thanh Toan, Deputy General Director of Dung Thai Son Import-Export Trading Joint Stock Company, emphasized that durian being officially exported is the joy of the agricultural sector. However, in order to maintain this, the government needs to encourage the management of planting areas and product quality, advising producers against cutting young fruit.
The government also creates favorable conditions for businesses to join hands with the government in the digital transformation, application of planting areas through the use of electronic diaries, etc.
"The local government also need to promptly invest in logistics, fruit processing and environmental treatment complexes. Namely, the authorities also need to deal with traffic congestions and narrow purchasing hotspots because they reduce production costs as well as quality", said Mr. Toan.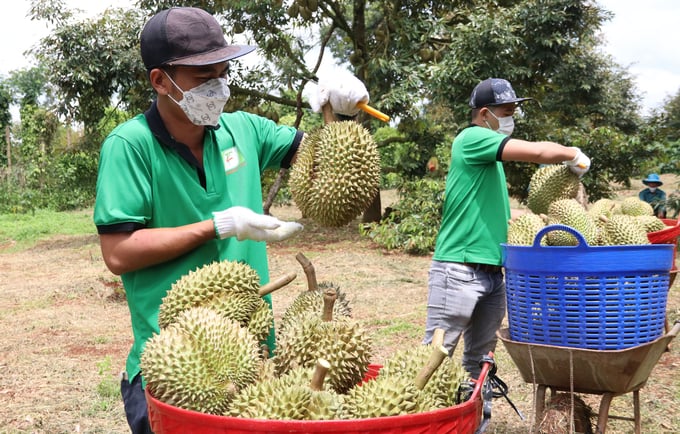 According to Mr. Nguyen Tuan Ha, Standing Vice Chairman of Dak Lak Provincial People's Committee, in order to maintain the successes and promote the potential opportunities for durian production and export, governments at all levels and production areas, packaging facilities need to implement synchronously and effectively various solutions.
Namely, they need to accompany export businesses to jointly build a reputable brand and create a sustainable export market for durian products. Farmers and businesses must fully and strictly comply with regulations and standards as set forth by the partner market; they must reorganize production in association with standardization of production processes. In addition to developing planting area codes, packaging facility codes and traceability, it is necessary to strengthen the inspection and close supervision of the implementation; as well as prevent and strictly handle any and all violations.
"We need to create and preserve the image of a quality, safe, transparent and responsible agriculture for consumers, with the goal of building a multi-valued, safe and sustainable agriculture, economically, socially and environmentally. The authorities need to receive and edit comments, promptly finalize the management plan, monitor and develop planting area codes and packaging facility codes for durian in order to promote the sustainable development of the fruit tree industry to meet the requirements of the importing country", Mr. Ha shared.
Source: Minh Quy - Minh Hau/nongnghiep/.