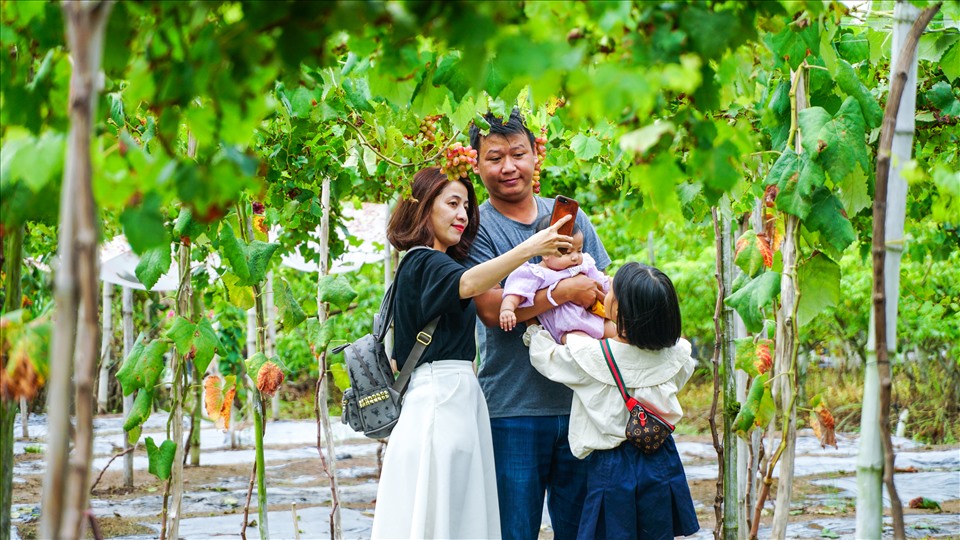 Bold ideas from post-COVID-19
We just had the opportunity to visit Thien Tinh vineyard of Mr. Nguyen Van Men (73 years old, living in Long Kien commune, Cho Moi district, An Giang province). This is the first vineyard on Cho Moi island and also the only vineyard to welcome visitors in An Giang.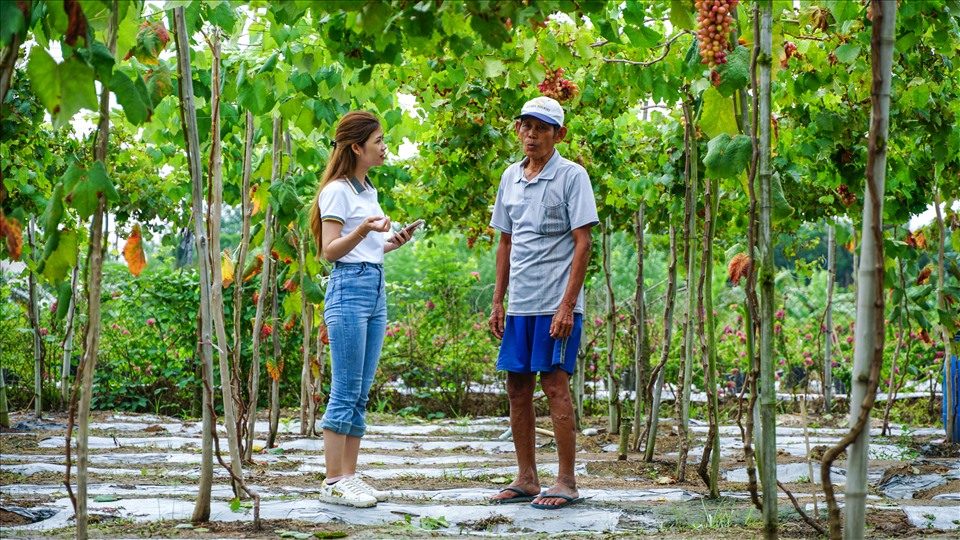 Sharing about forming the idea of bringing grapes from Ninh Thuan to the isle for planting, Mr. Men could not help but be touched when he told us: For more than 20 years, this garden of his has grown sour apples, Persimmon apples for export to Cambodia and China, each year the harvest has a steady profit. But by the last COVID-19 epidemic, he could not export but sold locally and no one bought it, so he had to abandon the whole crop, that time also lost nearly 50 million dong.
After thinking and pondering for many days, he found that he had to change the model of growing fruit trees that could be sold to the people here, at home, sold domestically rather than exported. dependent on the international market.
He started to research on nail grapes in Ninh Thuan, because no one has grown this grape in his place yet, and the grapes are easy to sell. So he decided to plant vines.
He spent more than 1 month going to Ninh Thuan to learn, gain experience, along with learning through the Internet, YouTube, books… Initially, he bought 100 fingernail grape seedlings for planting, at the price of 100,000 VND/tree.
He started planting from mid-October 2021. With his extensive farming experience, Mr. Men shared: "If you know how to cut branches to flower and handle fruit, growing vines will not be difficult. This variety is organically tolerant, so I grow it organically and partly using chemical fertilizers. From planting to flowering is 5 months, then fruit is nearly 3 months.
Up to the present time, the garden has an area of 1,800m 2, after more than 8 months he has developed the vineyard up to 310 vines. Currently, there are more than 120 vines bearing fruit and luxuriant. On average, each vine has 5-10 bunches, each bunch weighing about 1.2kg. Mr. Men said, the investment capital from seedlings, fertilizers, pesticides, tools for making truss... up to now is about 80 million VND.
The "fever" unique vineyard on the island
Although it has only been open to visitors since June 13, it has only been 3 weeks so far, but Mr. Men's Thien Tinh vineyard on Cho Moi island has created a "fever" on social networking sites. attracting the curiosity and curiosity of a large number of tourists near and far, especially the bustling check-in of young people.
Going from Long City through An Hoa ferry, running towards Provincial Road 946 about more than 10km, going to Xa Mach bridge and then turning right across the bridge, about 200m to Mr. Men's vineyard. With a ticket price of 20,000 VND/person, visitors can freely stop by to check-in, visit, take pictures and experience.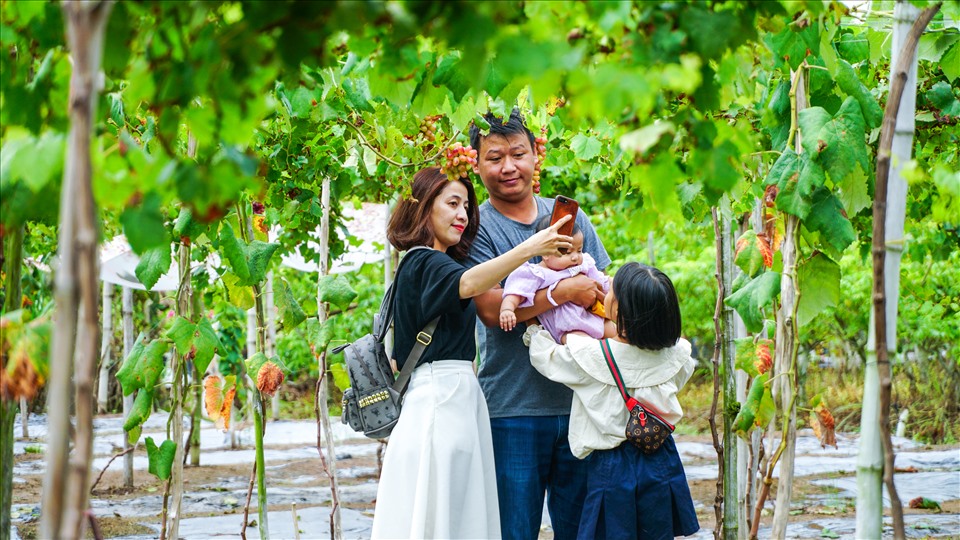 Accompanied by his wife and small child, Ha Van Minh - a tourist from Can Tho - shared: "Since seeing these pictures of the vineyard on Facebook, I have decided to take my wife and children to explore a trip. already. This model is not available here yet so it's very interesting. This weekend, my family took advantage of visiting. Mainly, I want to give my child a real experience with the vine, not just through books or the Internet."
According to Mr. Men, this first crop is estimated to yield 650kg, the market price fluctuates from 80,000-100,000 VND/kg. However, because this is his first grape crop and also the only vineyard in his hometown, he does not sell it but only for visitors to take pictures. There are more than 100 roots waiting for the harvest on the occasion of the Lunar New Year, at which time he will combine both selling and giving to visitors.
Ms. Le Thi Lanh (wife of Mr. Nguyen Van Men - owner of the vineyard) shared that on weekends, the vineyard can reach about 200 visitors, while on an empty day, it is also about 70-80 visitors. Although recently, the weather is not favorable, but every day the number of visitors is still the same.
Developing home-grown tourism in combination with economic development, especially with Ninh Thuan grape variety, is a fairly new model in An Giang. Currently, the price of grapes is at a high level, farmers here know how to take advantage of their garden houses to create attractiveness to attract tourists, which is a new and unique idea, and the effect can be replicated. by selling agricultural products at home.