According to the Vietnam Pepper Association, it is expected that in August 2022, Vietnam will export 16,500 tons of pepper, with a turnover of 66 million USD. In 8 months, Vietnam exported 162,000 tons, with a turnover of 739 million USD, compared with the same period, the export volume decreased by 19% but the turnover increased by 11.1%.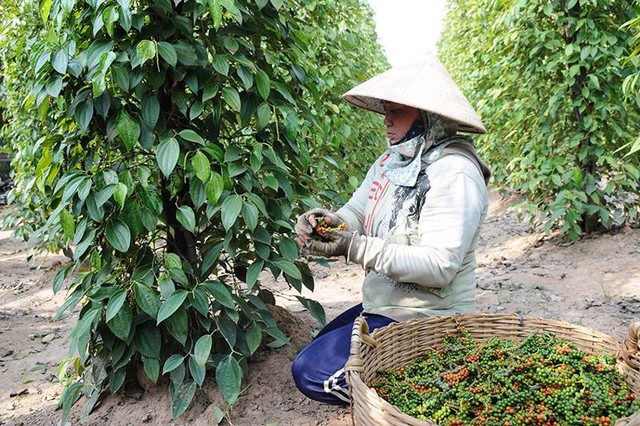 Pepper export turnover is now up more than 11% over the same period last year - Illustration
According to this association, Vietnamese pepper is losing market share because the Brazilian and Indonesian markets offer more competitive prices and cheaper freight than Vietnam.
In addition, some businesses exporting to Egypt and Pakistan also have difficulties when their goods have arrived at the yard but are "hanging" for several months and do not know when they will be paid, while still having to bear the container storage fee.
In addition, the difficulty for enterprises to access bank loans is also a big barrier for export development.
The Vietnam Pepper Association has proposed overseas Vietnamese trade offices to support the pepper industry in trade promotion, import and export development with foreign markets. Specifically, requesting the Vietnam Trade Office abroad to assist in checking information of enterprises and banks that have foreign currencies for payment; Ask your country's customs for support in case of need because goods over 3 months may be auctioned.
The Vietnam Pepper Association said that it has developed an international communication project to develop a sustainable market for Vietnam's pepper and spice industry in the period 2022-2025 in the US, EU and the Middle East. Accordingly, the pepper and spice processing industry of Vietnam will be introduced in specialized magazines in the target markets; building the image of Vietnam's spice industry to use on digital media channels, international social networks...
Source: Do Huong/ chinhphu.vn