With prices ranging from 90,000 to 120,000 VND/kg, gold apple (quả thị), a fruit that is only for smelling, not for eating, is peddled on the streets. The fruit is small and beautiful, but the shop owner can earn millions every day.
Gold apple is a kind of rustic gift with a sweet fragrance. Before just spending 1,000 - 2,000 VND, buyers can also own dozens of large, golden, fragrant fruits.
Even in the countryside, this fruit is grown by many families and only brought to each other's houses. Gold apple has a lot of people just to smell it but rarely eat it because it has little meat, many seeds and even though it is ripe, it still has a bitter taste when eaten.
n recent years, for people in the capital Hanoi, this autumn fruit has suddenly become extremely expensive. Many sellers also call Thi Thom with another beautiful name, Thi Co Tien.
In every market alley, on the streets of Hanoi these days, ripe golden market is for sale. On the streetcars, the market is displayed beautifully with a bright yellow color.
As a street vendor on To Huu Street, Ms. Nguyen Thi Hoa said that both large and small markets are sold by weight, not by dozens as before. The selling price is VND 120,000/kg of ripe yellow and VND 90,000/kg of green.
This is the price on weekdays, but on holidays and full moon days, the selling price is higher, ranging from 120,000-150,000 VND/kg. Each pound of gold apples has about 5 - 6 fruits, counting out each fruit is also a few dozen.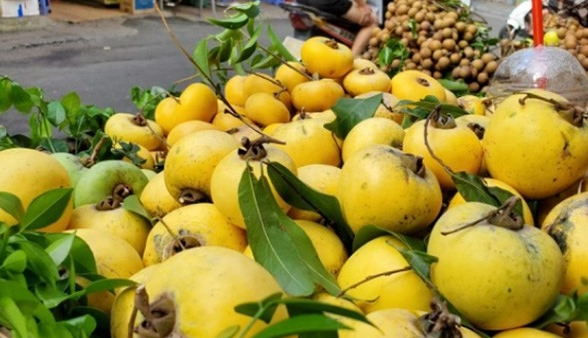 Ms. Hoa often sells fruit on the street, whatever season she wakes up. From the beginning of June, she entered the market to sell. According to her, there are two types of gold apple, "thị sáp" which is a small but very fragrant fruit, and a round fruit, also known as "thị muộn", with a larger fruit. " Normally, every day, I import a few dozen pounds. Every day I push the cart to sell from morning until about 7 pm, the goods are sold out. Every day standing in the street, she also sells about a few million dong in baskets " - Ms. Hoa To share.
Currently on the "web market", the fairy market is also listed for sale at a cheaper price of 70,000 - 80,000 VND/kg. In traditional markets such as Duong Noi market, Thanh Cong market, etc., there are also shops selling extra market. The amount of market in each stall is not as much as that of street vendors. But the owners shared that if they sold out of the stalls, they would also earn millions. Buying fruit is every 3,000 - 5,000 VND / fruit depending on the size of the fruit, and the weight is about 100,000 - 120,000 VND. Most of the people they buy according to the fruit. The few people who buy it are 3-5, and the people who buy a lot, they take dozens of fruits at a time…
The reason their selling price is higher than in the market is that the goods have been selected. Gold apple is usually regular, beautiful, with branches and leaves. Customers can choose green fruits to burn incense to gradually ripen or can take ripe yellow fruits for aroma. Although the price is quite expensive, many customers still buy enthusiastically without bargaining.
Carrying a plastic bag with 3 tiny gold apples inside, Ms. Pham Thanh Tra (Hanoi) said: " I have to buy these 3 small gold apples for 30,000 VND, but I really like them. I really like the smell of this fruit so I often buy them to hang in the room ". According to Ms. Tra, if you buy by weight, it will be cheaper than buying individually, but because she only need to use a little, she still accepted to buy at a high price. This fruit is also durable and can be kept for a week.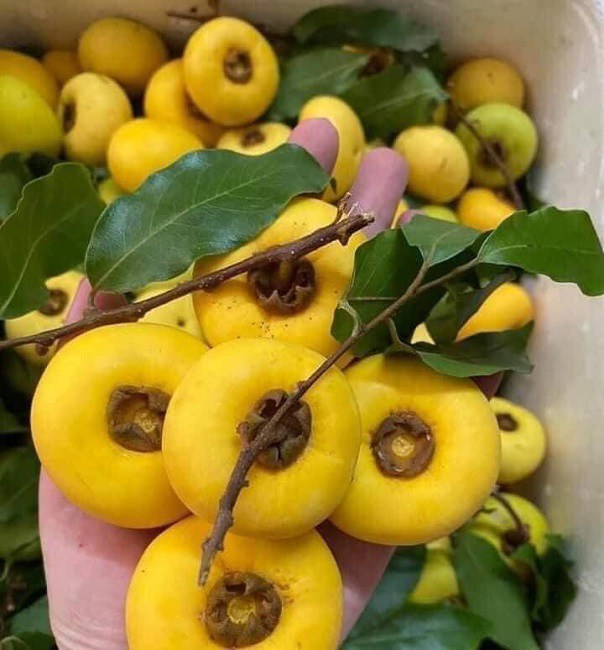 The fruit is not only beautiful and fragrant by buyers, but according to folk experience, when gold apple is ripe, it can be eaten when it is ripe. In oriental medicine, thi is used as a medicine to treat diseases such as anti-fever, stomachache, boils, rashes, etc., so eating gold apple is also very good.
Source: danviet.vn