From intercropping to the main source of income
Macadamia is a multi-purpose forestry tree, besides bringing high economic benefits to growers, it also contributes to greening bare land and improving the natural environment.
After the trial period, the macadamia tree was assessed to be suitable for the land in Dak Lak province, with high yield, good quality and is bringing great income to the people.
Years ago, the family of Mr. Duong Thanh Thieu (living in Cu Klong commune, Krong Nang district, Dak Lak province) only focused on growing coffee and pepper trees. When the coffee garden began to grow old, Mr. Thieu discussed with his family how to intercrop avocado to increase income. At this time, Mr. Thieu's family saw that macadamia was a new tree, so he bought it and tried it.
Taking reporters to visit the family's 400 green macadamia tree garden, Mr. Thieu proudly said that from intercropping, macadamia is now the main source of income.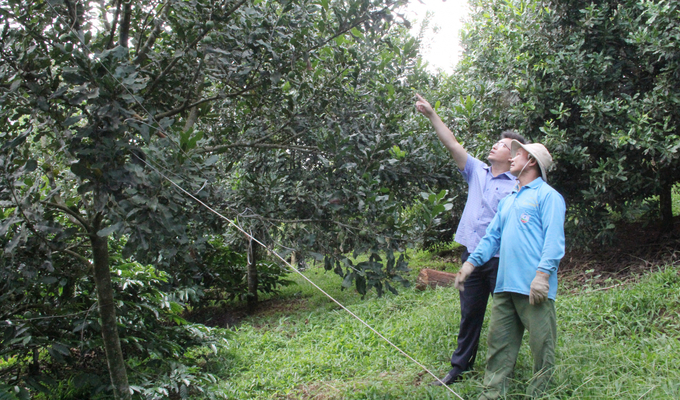 Initially, Mr. Thieu only bought 100 plants to test. After 3 plantings, up to now, his family's garden of more than 2 hectares has 400 macadamia trees, of which more than 200 have given fruit. "When it was first planted, people around said who would buy it later. At the time of planting, no one knew how the output of the macadamia tree was, but I was still determined to try it," Thieu recalled.
Macadamia trees have little investment costs, a year Mr. Thieu's family only spends less than 50 million VND. With such a low cost, households with little capital can plant to help alleviate poverty. The more luxuriant the tree, the more fruit it produces. Macadamia in addition to providing high economic income also helps to cover and prevent soil erosion because of its large, dense canopy, which evenly covers the garden like a forest.
"Last year, the family collected 3 tons of macadamia nuts, traders went to the garden to buy them for 80,000 VND/kg (fresh fruit). In the past, growing macadamia trees only thought to intercrop, create shade trees and cover the garden, so the trees grew naturally, without care. If you know that macadamia trees are for the economy, and the family has focused on taking care of them from the beginning, the income is probably still higher now," Mr. Thieu regretted.
Similar to Mr. Thieu, Mr. Nguyen Van Hai (living in Ea Nam commune, Ea H'leo district, Dak Lak province) realized the high economic efficiency from the macadamia tree, so the family decided to buy the seed and try it out. experience.
After 10 years of care, the macadamia tree has brought his family a stable income. Macadamia trees have contributed to helping Mr. Hai and many other households in the district eliminate poverty and get rich.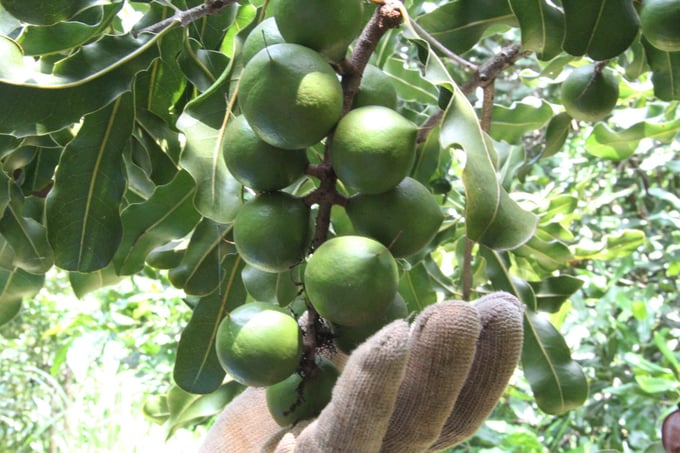 Mr. Hai said that when he first moved from the northern countryside to Ea Nam commune to start a business, he and many other households here only focused on growing staple crops such as coffee and pepper. Once he happened to watch TV, Mr. Hai knew about the macadamia tree, so he actively learned from his predecessors and the media. After many nights of thinking, he decided to go to Krong Nang district to buy seedlings for trial planting.
In 2013, on the bare land of his family, he planted more than 100 macadamia trees. In the first time, due to not mastering the technique, the yield was not reached, the fruit setting rate was low. Not giving in to difficulties, Mr. Hai participated in training classes organized by the locality and directly visited effective macadamia plantation models in other localities.
According to Mr. Hai, Macadamia is a perennial plant, easy to grow, easy to care for, low cost, suitable for local soil and climate conditions, can be intercropped in coffee gardens to increase income. . However, in order for the tree to be productive, after harvesting, the branches must be pruned, in about 10 to 12 days, they must be watered to ensure moisture for the tree.
Up to now, Mr. Hai's family has 800 macadamia trees. Each year, his family collects more than 7 tons of fruit, an average of one kilogram of green peeled macadamia nut is sold to the market for nearly 100,000 VND/kg.

"In the past, people around the world who planted macadamia trees shook their heads because they didn't know how the tree would grow and give economic benefits. However, until now, the family has a high income from macadamia trees, so the surrounding households also come to share the joy and learn from experience, "said Mr. Hai.
Multi-purpose forestry tree
According to the Department of Agriculture and Rural Development of Dak Lak province, up to now, the province has 2,706ha of macadamia, of which the harvested area is more than 1,117ha with a yield of 12 quintals/ha.
As one of the people trying to work with the first macadamia tree in Dak Lak, Mr. Duong Thanh Tuong (former Vice Chairman of the People's Committee of Dak Lak province), Chairman of the Board of Directors of Dak Lak HD Joint Stock Company affirmed that up to now, Macadamia trees have been successful locally.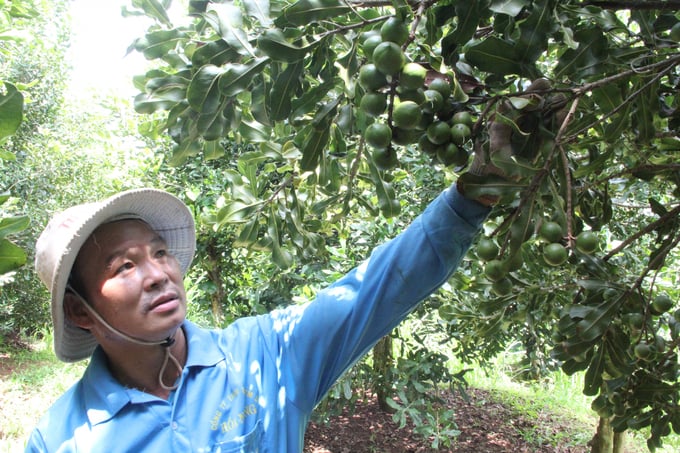 According to Mr. Tuong, Macadamia has introduced into experimental cultivation in Dak Lak nearly 20 years ago. At that time, deforestation was rampant, so the local government chose trees that brought both economic value and helped green the bare mountains. At first, people were skeptical about the effectiveness and economic value of the macadamia tree.
"However, up to now, macadamia trees have brought great economic value and can be confirmed to have been successful in Dak Lak. Currently, forestry companies, agro-forestry enterprises are also starting to switch to growing macadamia instead of acacia because of its high economic efficiency, "said Mr. Tuong.
And Mr. Nguyen Van Ha, Chairman of Ea H'leo District People's Committee, said that the locality has fertile basalt soil, which is very convenient for agricultural development and fruit trees of high economic value, including trees. macadamia. Currently, in the district, there are 4 communes growing macadamia trees, including Ea Nam, Dlie Yang, Ea Hiao, and Ea Sol, with a total area of 356.25ha.
According to Mr. Ha, through practice, this tree species is suitable for the land of the district, with high yield, good quality and is bringing high income to the people. In addition, the macadamia tree is also multi-purpose forestry tree, besides bringing high economic benefits to growers, macadamia trees also contribute to reforestation, greening bare land, and improving the environment. nature is in decline.
Mr. Nguyen Hoai Duong, Director of the Department of Agriculture and Rural Development, said that Dak Lak has many opportunities to develop macadamia trees into high economic value products.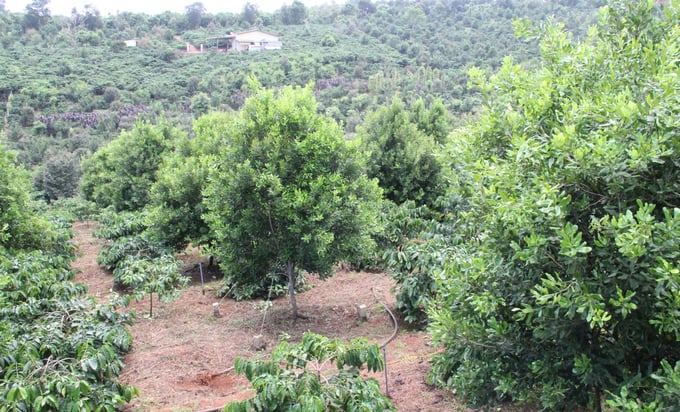 After the trial period, it showed that the macadamia tree was adapted to the locality and had good development prospects. According to the decision of the Ministry of Agriculture and Rural Development, by 2030, the Central Highlands will have 45,000 ha of cases. In particular, Dak Lak will consult with other units to develop macadamia in a fast and sustainable direction.
Macadamia is identified as a multi-purpose forestry tree, so it can be grown on agricultural land as well as forestry land. This tree has the effect of shading and protecting forests. Macadamia trees have great economic potential.
However, Mr. Duong also said that the locality faces many challenges such as there is no planning for the concentrated raw material area of macadamia as a highlight to build the product value chain; model has not been built for research and evaluation according to forest development solutions; grain quality is an important factor, but currently there are no specific research results by line and site to serve as a basis for products to access export markets; Research and evaluation results on pest control are still limited…
Macadamia is a forestry tree, at the same time a multi-purpose tree, with good growth potential, high economic, social and environmental efficiency. Trees can be grown in a concentrated manner on a large scale, while planting watershed protection forests to create aquatic resources, contributing to increasing forest coverage and protecting the ecological environment. Especially in border areas and remote areas, macadamia trees contribute to improving the lives of the people, and can be planted concentratedly in forest gardens, home gardens or intercropped in upland fields with fruit trees. , other industrial crops.