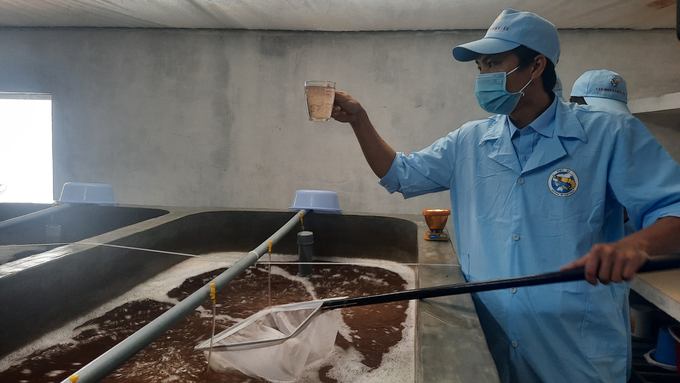 Quang Ninh has the strength of shrimp farming and sea farming thanks to its coastline of over 250km, owning 50,000ha of straits, tidal flats and more than 2,000 islands.
Besides, the province also owns an environment, farming depth suitable for many phytoplankton, many clums, small flow rate, less affected by wind and storm, as well as far from sources of oil and waste pollution. industrial, domestic wastewater.
Along with that, the market for shrimp and marine aquaculture products of Quang Ninh is quite favorable when there are trade border gates with China, seaports and ASEAN gateways.
In 2021, Quang Ninh will have over 7,000 hectares of shrimp farming, of which 4,000 hectares are industrially farmed, with an output of over 14,000 tons and a value of over VND 1,400 billion. The area for raising marine fish and molluscs reaches 10,600ha, the output is 45,000 tons, of which 39,000 tons of krill, the rest is marine fish.
In the first 6 months of 2022, the total fishery production reached 73,000 tons, up 8.7% over the same period in 2021. In which, fishing output reached nearly 35,000 tons, and aquaculture production reached 38,000 tons. The aquaculture area reached 32,000 ha, up 50% over the same period in 2021.
According to the Fisheries Sub-Department, shrimp production and marine farming in Quang Ninh have developed a lot compared to the past, but are not commensurate with the province's potential and strengths.
Currently, Quang Ninh has been somewhat proactive in the source of marine shrimp and fish breeds, but the source of mollusk seed, production materials, feed, aquatic veterinary medicine and floating materials are still dependent on the market.

The productivity of marine aquaculture in Quang Ninh is not high, especially the weak linkage, the infrastructure of aquaculture areas when there is still a spontaneous situation, new facilities for purchasing and processing shrimp and marine products. development at the beginning.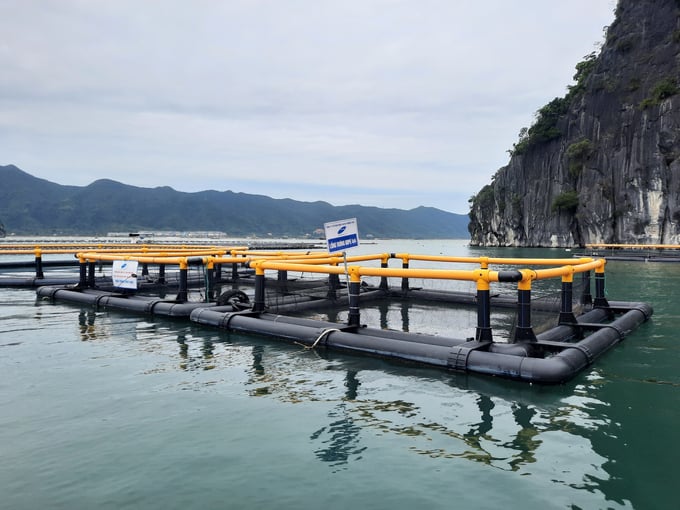 It is expected that by the end of 2025, Quang Ninh's total marine aquaculture area will reach over 8,800 hectares (accounting for 33% of the total aquaculture area), and marine aquaculture production will account for 65% of the total aquaculture production (about more than 59,500 tons). ).
The average growth rate of output in the period 2020 - 2025 is 8%, the production value at fixed prices is over VND 4,600 billion (accounting for about 68% of the aquaculture production value).
To achieve that goal, the province's agricultural sector has come up with many solutions to increase shrimp production and marine farming. In particular, focus on enhancing the content of science and technology in each farming model, modernizing production processes, management processes, centralized and large-scale production, and applying machinery and equipment to replace them. human power in aquaculture. Along with that, planning for large production, shifting from inshore to offshore farming, planning farming areas, reasonable farming densities for the best development of aquatic products.
According to Mr. Do Dinh Minh, Director of the Sub-Department of Fisheries, in the coming time, Quang Ninh province will strengthen the appraisal and grant of farming area codes and codes for safe processing facilities, building models of product linkage. production and farming as the foundation for aquatic products from mines to reach difficult markets but bring high value.
In particular, the industry will review and complete the marine spatial parameters, integrate them into the general planning, move towards digitizing the water surface. Simultaneously, it is to strictly handle violations in fisheries planning and stop spontaneous aquaculture.
Quang Ninh aims to have 100% of marine farming establishments meet food safety conditions and monitor the origin of farmed products according to the provisions of the Law on Fisheries. Build 1 to 2 typical mariculture models, and build at least 2 mariculture models associated with tourism and services to ensure livelihoods and increase income for fishermen.

Source: Nguyen Thanh - nongnghiep.vn